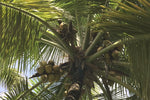 As we approach 2021 Q2, supply shortages persist to new levels.  Suppliers continue to try to manage the demands of customers while coping with nut availability due to effects of storms and/or other weather-related issues; depending on the region—some mills are only able to operate at a fraction of their capacity while also having to contend with on-going consequences of COVID-19 on harvesting and production.  These shortages are expected to be an issue going into Q3 2021.
The on-going effects of COVID have also culminated into a chaotic supply channel reaching to unprecedented heights of transit times and rates.  From labor/container shortages to port/rail congestions, we have now reached transit times ranging from 60-80 days—from the 30-40 day transit times we were seeing a year ago—with that, freight rates have nearly tripled during this time-period.          
We will continue to do our best to support our customers as we deal with these shortages.  There is hope that the coming months will get better. In saying that, seeing as this took a year to unravel, it will certainly take some time to get back to some sort of level of normal again.     
We are currently booking for 2nd half of 2021 and strongly urge those looking for coverage to book.