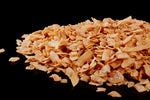 Some harvest and production slow down due to holy week in April will contribute to some short-term tightening in supply, but in general Q2 outlook for supply remains strong.  Shipping rates to North America have returned to pre-pandemic levels, and transit times are reliable between 40-60 days to Toronto.  
From Q4 2023 through Q1 2024, pricing had reached pre-pandemic lows, as supply far outstripped demand.  As we move into Q2 2024, there seems to be signs of return to balance.  Recently we have begun to see increase in prices, as many mills find themselves booked through much of Q2.    
As we move through 2023 Q2, an eye will be kept on the weather, as El-Nino (estimated to begin July 2023 and last into 2024), will likely bring below normal rainfall and could affect crop yields moving into 2024.          
At this time, it is our recommendation that requirements for the remainder of 2023 be booked, as all indications point to a return in increased demand, and which will only likely increase further with any possible risk to supply moving into 2024.