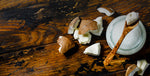 Happy New Year!!  
As we move into 2023, we look back at the last couple of years as many of these developments reverberate into the beginning of this year.
2022, in many ways, can be seen as the reversal of all things in 2021.  In 2021, there were supply shortages.  These shortages were brought on by lower nut yields due to severe storm activity over the last number of years in the Philippines.  There was also a decreased capacity for labour due to social distancing and other covid related policies brought in during the onset of the pandemic.  We faced a lack of supply, a lack of shipping vessel space and equipment due to an explosive demand for exports of consumer goods out of Asia.  This furthermore wreaked havoc on all aspects of the supply chain.  In 2021 prices sky-rocketed and inventory levels could not keep up with demand.
In 2022, nut yields began to increase throughout the year.  However, as supply increased and supply channel issues began to ease, the demand sharply decreased as the world markets began to deal with the fallout from the problems of 2021.  This fallout caused instabilities in varying degrees to much of the world economies. In 2022 we saw several interest rate hikes by central banks around the globe as they tried to best curb rising inflation rates.  These hikes made for a decreasing demand on the commodity market which caused many mills to have too much production capacity and prices for coconut products to return to pre-pandemic levels.     
Further exacerbating the instability in the market, 2022 also saw the beginning and on-going development of the war in Ukraine.  With no end in site, the conflict will continue to have a major impact on the energy market, and it will play a significant role in affecting the commodity market as we move through 2023.          
Starting 2023, China's reversal of its zero covid policy should also be noted as a potential market driver.  It is uncertain if there will be any fall out due to such reversal in policy, if they can sustain and maintain the opening of their economy, and what impact this may have on Chinese imports.
Outlook for 2023 Q1:
As we move into 2023 Q1, and the Philippines has moved out of Typhoon season (May-Dec.), we should continue to see strong supply as there has been relatively minimal disturbances due to storms in many of the large coconut growing regions through 2022.  As stated in the many reasons above, there is great instability in the market, but there seems to be no immediate indication to any meaningful changes in demand through Q1. It should be noted, production costs have gone up substantially over the last few years, so current pricing may not be sustainable for much longer, and any sudden changes may see prices begin to rise into Q2.