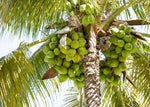 There have been 2 major price peaks that have occurred over the past 10 years. These price increases are due to the drought that was experienced in South East Asia (directly related to the weather phenomenon, El-Nino). The first cycle that began in 2010 saw coconut pricing peak in 2011. Then again, to a lesser extent, prices peaked in 2016-17 due to the drought that occurred in 2015-16. Since the price peak in 2016-17, we have seen pricing come down, reaching cycle lows in mid-2019.
In late 2019, prices began to rise. This was in large part due to the extended dry season in 2019. During that time, the drought caused stress on trees which resulted in lower yields. This lasted for a period of 12 months (beginning August 2019).
In the beginning of 2020, we saw the global market disrupted by the effects of COVID 19. There was a reduction in harvesting and processing capacity, due to new quarantine measures and policies. All efforts were put in place to mitigate the spread of the virus however this resulted in further price increases and supply disruptions. For the remainder of 2020, it appears as though there will be continued shortages in harvesting and processing. Again, this is due to of the on-going measures put in place to mitigate spread of the virus.
There is a great deal of uncertainty going into 2021 because of COVID 19 and the repercussions of a second wave.
COVID 19 aside, there is always a potential of heavy storm activity in South East Asia from the May to December months. If a storm does occur, this will also cause supply and pricing concerns, compounding the problem of an already uncertain market.
Due to these current market conditions, it is suggested that those looking to guarantee supply, book out through the first half of 2021 (at minimum). Knowing that we are also accepting contracts for the entirety of 2021 for those who need long term coverage.